There were plenty of memorable moments at The Village of Arts and Humanities Summer Showcase this August. But Philly Earth, our STEAM-based environmental education, urban farming, and agricultural workforce development program, set the bar exceptionally high. Participants ran a farmstand so impressive that one might mistake it for a neighborhood farmer's market.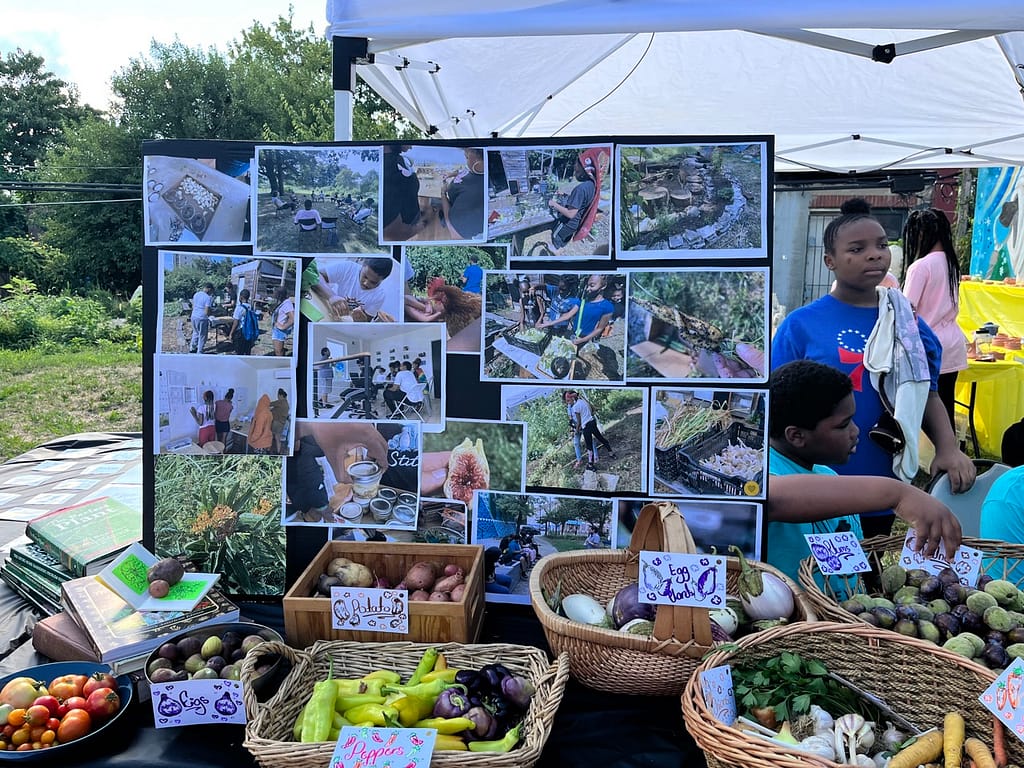 These young people sold a wide range of fruits and vegetables harvested throughout the summer, including figs, almonds, onions, carrots, potatoes, tomatoes, and eggplant. They also produced and sold several farm-derived products, such as vegan basil pesto, kimchi, fresh mint tea, and bug repellent salve.
"It's pretty fun because you get to see stuff you wouldn't usually see around Philadelphia," said Jennifer, who's entering ninth grade and has been part of the Philly Earth program for two years.
Philly Earth teaches young people how to care for the environment, beginning with their own community. In addition to learning about farming, the stand provides youth ages thirteen to nineteen the opportunity to learn about business and entrepreneurship. A Philly Earth participant played the role of accountant, ensuring they were keeping track of purchases. At the end of the night, more than $400 had been raised for the program, which the youth will determine how they want to reinvest during Philly Earth's fall session.
"It's been such an honor to observe the youth lean into their interests by connecting with the natural world, themselves, and the simple things that bring us joy and awe," said Lu Thain, Senior Manager of Philly Earth and Environmental Programs. "That includes watching the progression of plants grow into food, working in a space filled with beautiful birds, butterflies, and flowers, and, most importantly, understanding that there are viable solutions to some of Earth's and our humanity's greatest challenges. The young ones are the future, and they need, more than ever, to believe that they can shape it and be hopeful."
Philly Earth also teaches young people about opportunities for careers and postsecondary education in STEAM-related fields. During her time in the program, Jennifer has created a proposal for a solar-powered water irrigation system and is now considering possibly becoming a contractor or architect. She thinks other young people would enjoy what Philly Earth offers.
"It's a great way to spend your time. It's a great way to come outside and spend time with other people, making garlic butter or harvesting other plants."
Philly Earth will be available once youth programming returns to The Village in the fall. Keep an eye on our website and social media for registration updates.